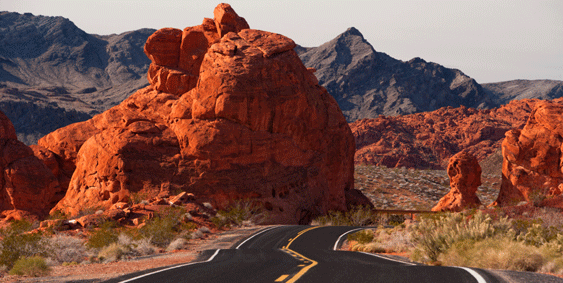 Nevada Traffic School FAQ
Question:
Where do I sign up for this Nevada Traffic School Course?
Answer:
Each page of NevadaTrafficSafety.com features a link that says "Sign Up." Click this and you will be directed to the traffic school registration page. Registration takes just minutes and is completed in just a few steps. All you need to do is fill in the appropriate fields, and you're enrolled.
Question:
How does the Nevada point reduction work?
Answer:
You are eligible to reduce up to 3 points on your Nevada DMV driving record once every 12 months. When you complete the course, you will receive a certificate of completion as well as a DMV point removal form. Complete the point removal form and forward it to the DMV by fax or mail and the points are removed.
Question:
I was ordered by a court to take Traffic School. How is this different from a DMV point reduction?
Answer:
The court is giving you the chance to dismiss the points at the court level. This means that you select to take traffic school and the points are not added to your Nevada DMV record. Simply follow the courts directions for traffic school and show them your certificate once you complete our Nevada Traffic School
Question:
How much does it cost to enroll in your program?
Answer:
The price to participate in our Nevada Traffic School is just $24.95!. We try to keep our rates lower than most of the other Nevada Traffic Schools, some of which charge over $40 for the same services!
Question:
I need my certificate fast! Can you rush it to me?
Answer:
Yes, for a nominal fee, the certificate can be sent to you via e-mail the very day you graduate from the course. Simply select the rush delivery processing option during enrollment.
Question:
Is this course approved by the Nevada DMV?
Answer:
You bet! Our course (Nevada DMV Lic# TSS000040636) has met all requirements for licensing by the Nevada DMV as a Nevada Traffic Safety School. In addition to being approved by the DMV, all courts in Nevada recognize our traffic school as an approved provider and accept our traffic school certificates.
Question:
What is your refund policy?
Answer:
We make every effort to ensure the satisfaction of each student.
Under certain conditions a student may be entitled to a refund, especially if the course of instruction interrupted by or prohibited by forces of nature outside of our control, including natural disasters. While our company will make every effort to restore service as soon as possible, this may not be possible under certain conditions.
If you are unhappy with the course for any reason, please contact our office and let us know and we will help you. If you have already received a certificate, we're sorry but we cannot issue a refund.
Question:
Do I need any special programs installed on my computer to participate?
Answer:
No, but we do recommend that you have Adobe Flash player installed to view the course animations.
Question:
Can I use any computer to participate?
Answer:
All you need in order to participate is a computer with internet access. Any computer or internet device like a tablet or a mobile phone that is hooked up to the web will allow you to work on our course, whether it is at home, work, or the library. You can even participate using different computers at various times if needed.
Question:
How long will it take to complete this Nevada traffic school course?
Answer:
It's really up to you. Generally, it should take you no longer to finish our course than it would if you took a traditional in-class Nevada Traffic School program, which is 5 hours. You may work at your own pace and log on and off at anytime. Note: This course is not approved as a repeat offender program or a DUI course.
Question:
Must I complete the program all at once?
Answer:
If you wanted to, you can sit through the program from beginning to end, but that is not required. You can complete the course in sections, which is made easier by the fact we've broken it up into several sections to give you the flexibility to decide when to stop. The program keeps a record of your progress, allowing you to easily return to where you left off. You can log on and off as often as you need, 365 days a year.
Question:
I've already enrolled in the program and need to log back on
Answer:
If you have enrolled already, you should have your username and password. Just enter them by visiting the "Current Student Login" link at the top right hand side of any page on our site whenever you need to return to the program. If you forgot or lost your username or password, there is a password recovery link on the login page.